ClubSys - Club Management Software to manage your club with your finger tips

Our club management software is designed to be an inexpensive, web enabled solution for your Club's reservations, bookings or scheduling requirements. Whether you are managing a large complex, multiple locations or just your local social sports Club, we have the solution for you. Our club software gives you the ability to effectively manage your Club's major letting assets whilst providing your members and clients with instant advice on availability or bookings. Making a reservation is as simple as three mouse clicks away. Scheduling software cannot get easier than this.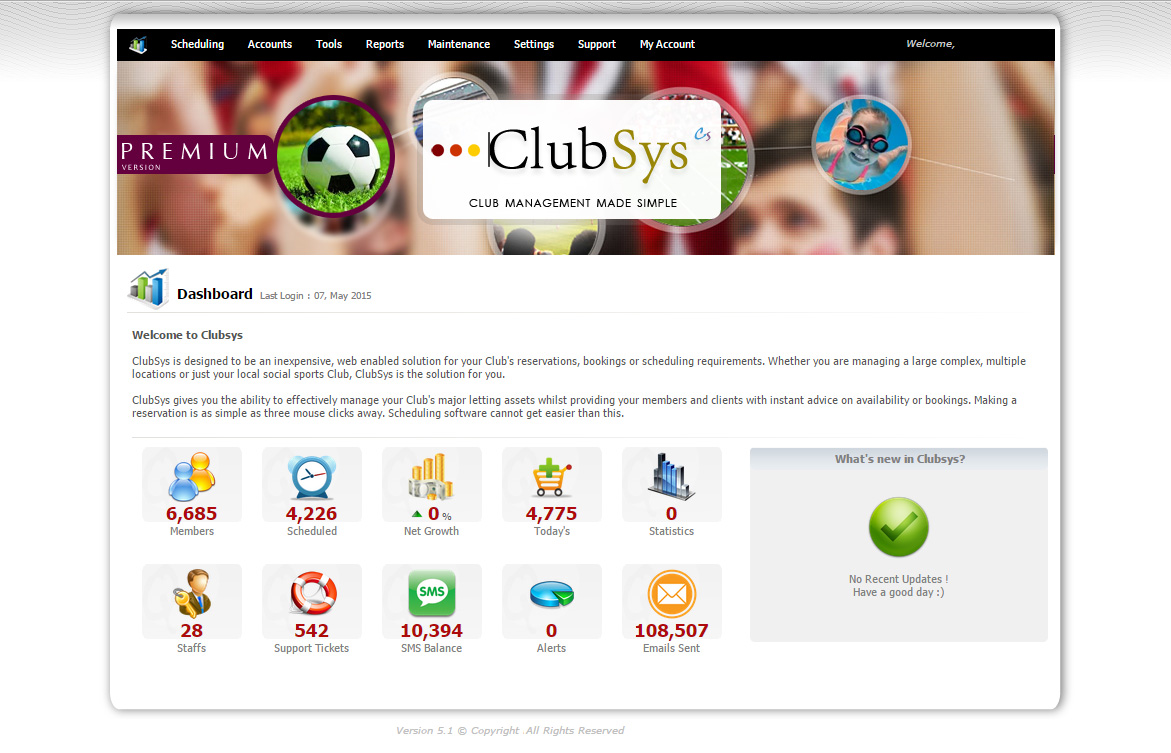 "One of the best club software available in US, UK, Singapore, France and Middle East"

We have created three different packages that should suit your needs! If you do find that you need something different, please contact us. We are flexible and able to structure a special deal that will fit both your needs and your budget!
KEY MODULES:
Online Registration Form
Smart Dashboard
Multiple Programs
Multiple Venues
Member Scheduling
Adding New Members Offline
Accept Payments
Credit Notes & Invoice Reprint
Real time Slot Availability
Smart Member Search Engine Tool
Custom Reports: Accounts, Schedules
Staff Management
Multi User login
Member Management
Fees Breakdowns
Multiple Discounts
Term Management
Group Management
Program Management
Venue Management
Multiple Timeslots per Group per Term
User Access Rights
Open Support Tickets
Automatic Data Backup
Knowledgebase
Barcode and QR Code Payment Receipts
Transfer Payment between Accounts
Audit Trail Log
Sending Bulk Email/Newsletter to your clients
Sending Bulk SMS
Intelligent Club Analysis Report
Private Members Area
Payment Gateway Integration
Cloud Based

Our club software best fits clubs which offers training of: Basketball, Soccer / Rugby, Tennis / Racket, Swimming, Athletics, Handball / Softball / Volleyball, Karate / Gymnastics, Gym, Recreational Club, Personal Trainer, Sports Academy, Health & Fitness
For more information visit: http://www.clubsys.net